There are lots of questions you might be asking before visiting or moving to Barcelona. Here we have summarized what you should know before you plan a visit to Barcelona.
Barcelona is cradled in the North Eastern Mediterranean coast of mainland Spain, about 2 hours drive South from the French Pyrenees. It is the biggest city on the Mediterranean coast with an average elevation of 47m above the sea level.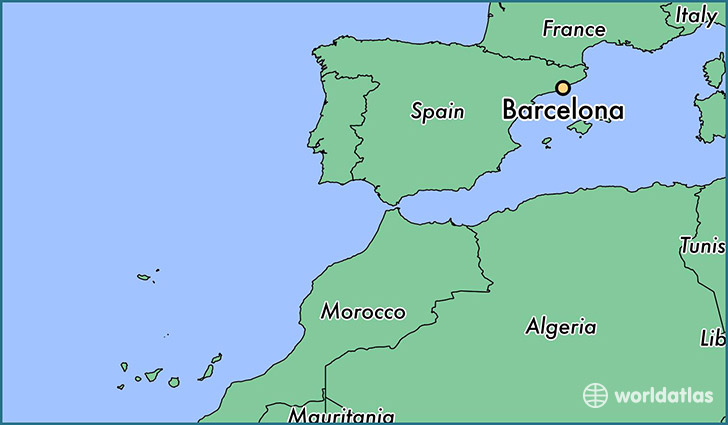 Barcelona and its metropolitan area has a Mediterranean climate with mild winters and hot summers. Sunshine duration is about 8 hours in December and 15 hours in July. Its average annual temperature is 21.2 °C (70.2 °F) during the day and 15.1 °C (59.2 °F) at night. Winters in Barcelona are mild. December, January and February are the coldest months, with average temperatures around 16 °C (61 °F) during the day and 10 °C (50 °F) at night. On extremely cold days, the temperature would be about 6 °C (42 °F) . Having a warm jacket in the winter is a must. July and August are the warmest months, with average temperatures around 28–29 °C (82–84 °F) during the day and 22–23 °C (72–73 °F) at night.
As in most countries of Europe, the official currency in Spain is the euro (€). There are eight coins (1, 2, 5, 10, 20 and 50 cents, and 1 and 2 euros) and seven bills (5, 10, 20, 50, 100, 200, and 500 euros).
Foreign currencies can be exchanged in currency exchange establishments, in some banks and even some hotels offer this service. Most stores refuse 100€, 200€ and 500€ bills unless you are spending a lot of money. Most places accept the most well-known international credit cards such as Visa, MasterCard and AmericanExpress cards.
The official languages in Barcelona are Catalan and Spanish, although Catalan is more present in the names of streets and indications of transport. All Catalans are able to speak Spanish as well. English is very widespread and most businesses can provide their services in English as well. However, if you move away from the city center or touristic areas or if you go to most ministries or offices, chances are English is rarely understood.
Note: many Catalans are proud of their culture and language. Never disrespect the Catalan language, culture or heritage in front of local people.
If you want to learn Spanish, we recommend Escuela Mediterraneo and Speakeasy. You receive a 5% discount on all their courses with the Studentfy Membership Card. You can receive discounts on the courses and services at Speakeasy as well. 
Catalans are very proud of their identity, language and culture. A lot of them get offended when you compare them to the Spaniards. For example, flamenco in Catalunya isn't as popular as the other parts of Spain and bull-fighting has been legally banned since 2010.
Never ever say things like "you're in Spain. Why don't you speak Spanish instead of Catalan?"
Legal and Administrative works
When it comes to legal and administrative procedures, Spain is known to be highly slow and bureaucratic. There is very little information available for international students and tourists on official channels and the most common (yet inefficient) way to inform yourself is to ask around.
If you are coming to Barcelona as a student, you will need a TIE (Tarjeta de Identidad de Extranjero) which is your temporary residency card functioning as your ID in Spain, and a padrón which is registrating yourself as a resident in Barcelona. Getting your padrón is fairly simple and straightforward but getting a TIE can be a huge pain in the neck.
Luckily, we have two excellent blogs dedicated to these two topics with clear explanations and instructions:
Tips are not required as prices include the service. However, it is common to tip in bars and restaurants, hotels and taxis, and the amount will depend on the price and the generosity of the customer, although they usually range between 5 to 10% of the total amount.
In Spain, almost all the prices everywhere include the VAT tax (unless stated otherwise). Therefore, a price you see in a store will be the final price you will have to pay.
Visitors who reside outside the European Union can request the refund of Value-Added Tax (VAT) of their purchases when they exceed 90.15€. For that, in the shop you have to ask for the tax-free invoice, which must be presented at customs along with the purchases to be stamped.
Afterwards, you will only have to present it in one of the management companies, most of them have an office at the airport, for its cash receipt, by the deposit of the VAT in the credit card, by bank transfer or with an international check.
Barcelona has excellent public transportation. There are 11 different metro lines covering the majority of the city especially the center, trams (only in a few streets), trains and many bus lines.
At the time of writing this blog, a metro or bus ticket costs about 2.15€ but if you buy a T-Casual card (you can use it 10 times), every ride will be 1€ which is great. In Barcelona. you pay per ride and not per stops/distance so it doesn't matter how far your final destination is, the price will always be the same, whether you use the system for just one stop or the entire line.
Click here to read more about the public transporation system in Barcelona and all the different tickets and which is the right one for you.
Note: the metro ride to the airport is 4.90€ and the AEROBUS costs 5.90€ (at the time of writing this blog)
Barcelona is also one of the most bike-friendly cities in the world with over 180km of bike paths in the city. See our blog: Complete Guide to Barcelona's Bicing
Most businesses in Barcelona open between 9 am and 10 am. A typical working hour is 9 am to 5 pm and many shops run two shifts. Major chain supermarkets open at 9 am and close around 9 pm.
Almost all governmental offices close between 2:30 pm and 3 pm so if you need something done, make sure you plan to wake up early. Most banks open at 8:30 am and close at 2 pm.
Unlike many other countries, the shop assistants and clerks would simply deny you entry into their store 15 to 30 minutes before they officially close. Also, all the major chain supermarkets are closed on Sundays and holidays. You must look for smaller corner grocery stores if you need something on a Sunday or holiday.
The plugs in Barcelona are Type F (picture below) so they have two round outputs and a voltage of 220 V and 50 hertz of alternating current. In most Chinese stores, there are adapters and it's easy to find transformers and adapters.
Since January 2011, smoking is prohibited in any premises open to the public which are not outdoors such as bars, restaurants and hotels, nor around health centers, parks and schools. In some cafes and clubs, it's ok to smoke shisha/hookah but not cigarettes.
If you are moving to Barcelona, then it's time you learn about coffeeshops. If you walk down La Rambla, lots of people would come up to you and ask you if you are interested in a coffeeshop. A coffeeshop is a pretty much a marijuana store where you can buy and smoke marijuana.
It's legal to smoke marijuana in these coffeeshops and lots of people smoke in the street as well. It's legal to own and grow your own marijuana plants (up to 3 plants per person) but it's illegal to sell or buy in the middle of the street. You can get a membership card at one of these marijuana clubs and buy your stash from them.
Medical Assistance and Emergency
Community travelers can receive medical treatment in Spain thanks to the reciprocal agreements of the European Community. The rest of the travelers will receive medical care in case of emergency but it's a good idea to have some type of medical insurance that covers additional treatments. On the other hand, in pharmacies (identified with a large green or red cross on the outside), you can find a wide selection of over-the-counter medicines for colds, headaches, sunburn, digestive or muscle discomfort, etc.
Need an insurance plan? Studentfy has partnered with SANITAS to bring you one of best and most affordable insurance plans in Spain. Click here to find out more about our health insurance and apply.
There are three types of holidays in Spain: the national holidays, the state/regional holidays, and the local ones.
Barcelona is generally a safe city and you can walk and sightsee without any problem. However, as in any big city with much tourism, it is recommended to take some basic precautions to avoid uncomfortable situations.
Watch your belongings and keep your bag and backpack well closed, especially in tourist areas and public transport especially on the beach or anywhere near the La Rambla, Plaça Catalunya, Raval and Barrio Gotico areas where pickpocketing is rampant.
Carry your money and credit cards in front or inside pockets.
Don't show anything of value or a large amount of money in public spaces.
Don't look like a tourist! Pickpockets' primary target is anyone looking like a tourist unaware of their surroundings.
Don't participate in betting games that take place in the streets.
In case of theft or robbery, as well of an accident, medical emergency, or aggression don't hesistate to call 112, the emergency service number.
Let us know in the comments below what you think about coming Barcelona.
Are you a student looking for a flat in Barcelona?
We Work with reputable flat owners and agencies to help international students find their ideal flat in Barcelona.
Modern flat? Room with a balcony? We can find anything you can imagine!
Just fill out our housing form and we will help you find what you are looking for.